The rest is still unwritten…or it was until now.
14 years ago on May 31, Laguna Beach fans hopped in the passenger set of Lauren Conrad's black BMW to join her on her journey to The Hills, following the reality star as she lived, worked and played in Los Angeles. The hit show introduced us to Heidi Montag, Audrina Patridge and Whitney Port, and quickly became a pop culture phenomenon, covering every tabloid magazine and drawing some of the network's highest ratings.
Well over a decade later, lines from the series have lived on ("I want to forgive you and I want to forget you!"), .GIFs are still being used on the daily (Lauren's infamous mascara tear anyone?), and oh yeah, the show is back on the air with The Hills: New Beginnings (minus Lauren, of course).
But over the course of The Hills' original six seasons, fans wondered how much of the drama was actually real, with the cast members not being shy in interviews since the series' ended about dishing secrets on the show.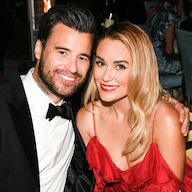 Photos