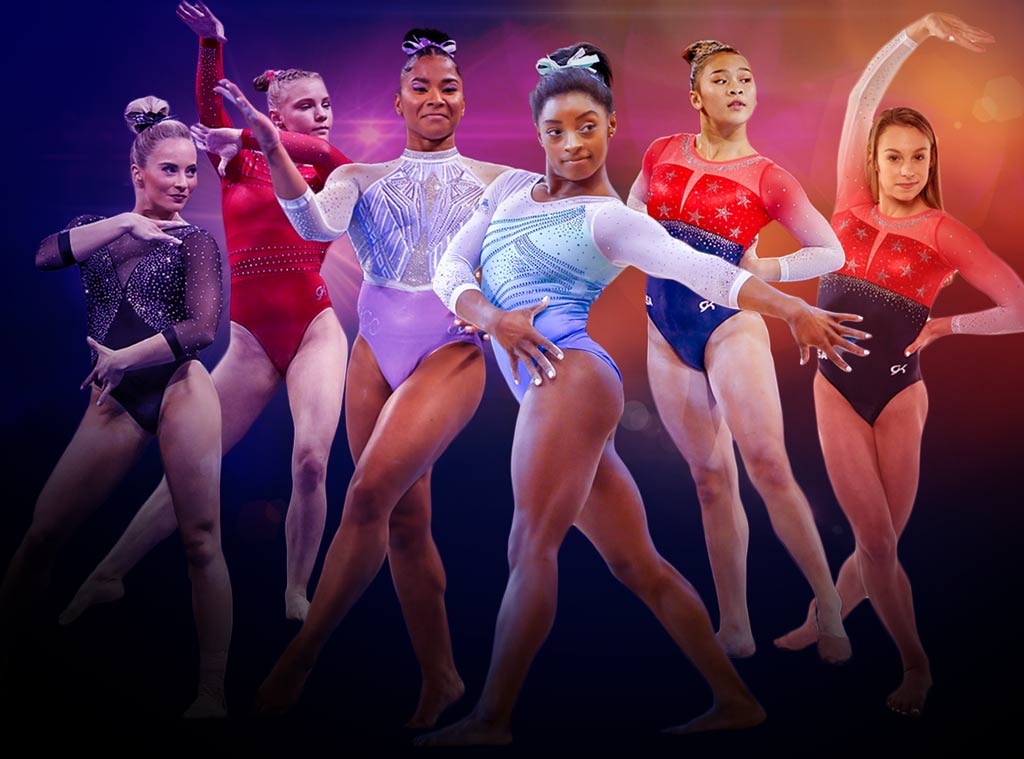 Getty Images; Shutterstock; Melissa Herwitt/E! Illustration
At the Rio Olympics in 2016, the utterly dominant U.S. women's gymnastics team was dubbed "The Final Five"—so named because national team coordinator Martha Karolyi was retiring after the Games, "and without her none of this would've been possible," two-time Olympian Aly Raisman said. Also the format of the competition was changing, and only four would be selected to compete for a team gold at the next Olympics.
Led by 19-year-old Simone Biles, they were a magnetic bunch, their sport commanding prime-time TV real estate and their athleticism, strength, determination, infectious smiles, inspiring sisterhood and maybe someone's crush on Zac Efron providing some of the most entertaining moments of the entire Games.
"I've finally done it. It's so exciting," Biles, who had been expected to crush it in Rio and delivered accordingly, told reporters after winning individual all-around gold. "You never know the feeling until it hits you."
The Olympics are, of course, known for their emotionally extreme moments: Wins and losses, triumphs and heartbreaks, uplifting journeys and career-threatening obstacles that turned into just more fuel for the fire to succeed.
Millions of admirers thought they knew the Final Five's story by then. But almost no one knew the whole story.
photosGet to Know the U.S. Gymnasts Competing at the Tokyo Olympics
As it turned out, they were also the final five women to compete at the Olympics before the world found out that USA Gymnastics was infected with a cancer named Dr. Larry Nassar. A disease that had been allowed to spread unchecked for 20 years, during which at least 265 girls say they were sexually abused by Nassar while he was the doctor for the U.S. women's national team and USA Gymnastics and employed by Michigan State University.
He was arrested in December 2016 and has been behind bars ever since, pleading guilty in separate cases to federal child pornography charges and seven counts of sexual abuse. He was sentenced to the maximum 60 years in prison for the former, and then 40 to 175 years in the latter, Ingham County Circuit Court Judge Rosemarie Aquilina telling Nassar in court, "I've just signed your death warrant." (He pleaded guilty to abusing three more girls in Eaton County afterward.)
Watch: Why Simone Biles Is The G.O.A.T.
The emergence from this nightmare began with athletes who did not become household names speaking up, their bravery opening the floodgates for others whom the country had cheered for with no idea just how much they had overcome to be there. Eventually, over the course of 18 months, the entire gold medal-winning "Fierce Five" team who were the darlings of the 2012 London Olympics—McKayla Maroney, Raisman and Gabby Douglas (both also part of the Final Five), Jordyn Wieber and Kyla Ross—identified themselves as past victims of Nassar.
Trending Stories1The Agreement Shailene Woodley & Aaron Rodgers Made After His Proposal2Blake Lively Says Paparazzi Stalked Her Kids in "Frightening" Incident3Britney Spears Slams People Who "Never Showed Up" Amid ConservatorshipCameron Spencer/Getty Images
On Jan. 15, 2018, the day before Nassar's sentencing hearing began and 156 women spoke their truth in open court over the course of four days, Biles revealed that she too had been abused by the doctor. "And it breaks my heart even more to think that as I work toward my dream of competing in Tokyo 2020," she wrote, "I will have to continually return to the same training facility where I was abused." Later that summer Rio teammate Madison Kocian and team alternate Ashton Locklear came forward as well.
And Nassar's crimes weren't even the full extent to which their sport was broken.