Gigi Hadid and Zayn Malik are giving back.
In collaboration with British Vogue, the couple, who announced that they are expecting their first child together back in April, showed their support for the publication's The Way We Wore auction, which will feature a selection of clothing from some of the world's most stylish stars to raise money for two important causes that have been providing relief amid the coronavirus pandemic: NHS Charities Together and the National Association for the Advancement of Colored People (NAACP).
For their part, Hadid and Malik posed for a stunning at-home portrait to show off the items they will be auctioning, which include a top and skirt pair from Fenty and a saddlebag from Dior. Sporting a denim button-up shirt, the mom-to-be can be seen sweetly embracing the One Direction alum, whose back is to the camera, as he models the designer bag in their mirror selfie.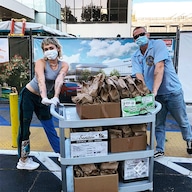 Photos
Celebs Giving Back Throughout the Coronavirus Pandemic