Gigi Hadid did it. Jennifer Lopez, as well. Same for Khloe Kardashianand, most recently, Emily Ratajkowski, Mandy Moore and Amy Schumer.
The chain that binds them is not a new cauliflower- and celery juice-laden diet or a shared personal trainer (though Lopez and Kardashian have both been known to sweat alongside pro Gunnar Peterson), but rather their Instagram habits, specifically the ones that have made them a target for photographers' lawsuits.
For us regulars, stealing a photo is no big thing. If your hair looks great in that one snap your friend posted and they got your good side, then repost without worry. (Unless your pal is a professional photographer and also kind of a jerk.) But when celebs snag a particularly fierce photo of themselves off the Internet to share with their millions of Instagram and Twitter followers, well, they're in danger.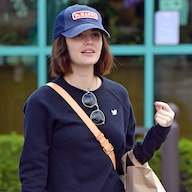 Photos