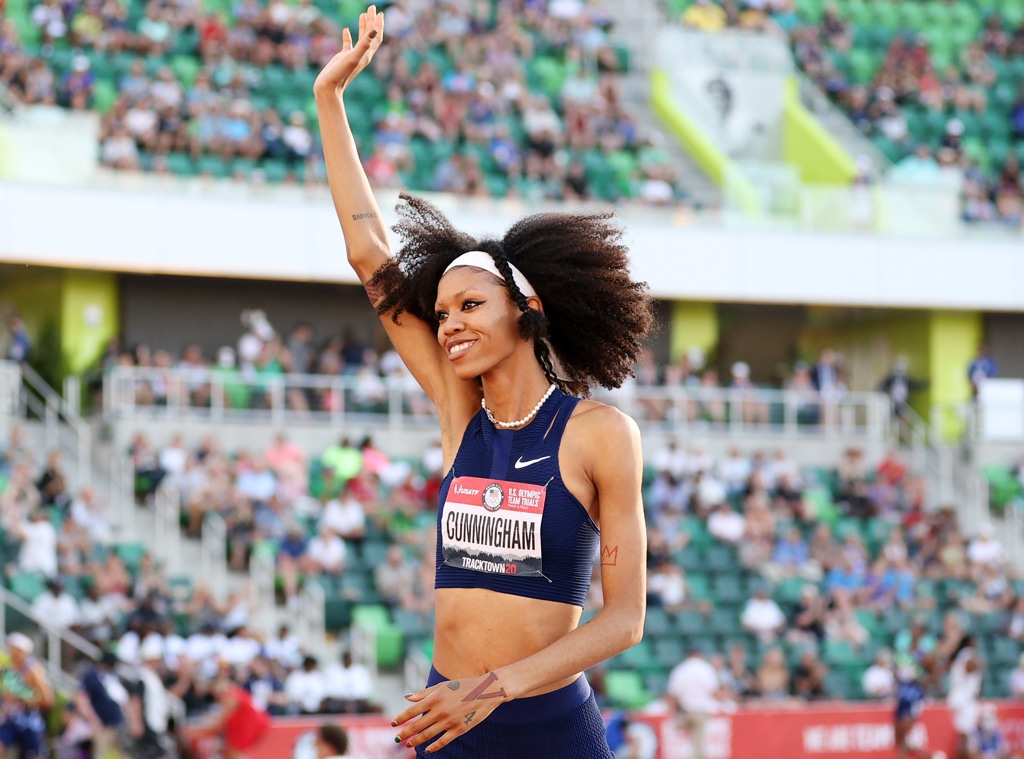 Patrick Smith/Getty Images
Asked for three words she'd use to describe herself, Vashti Cunningham went with "long," "different" and "confident."
At 6-foot-1, the Olympic high jumper's lithe, graceful limbs can attest to "long," Vashti having studied ballet as a kid but finding it too sedate, the urge to run and compete proving too strong for tights and tutus.
In terms of "different," it's fairly obvious both upon observing the athlete in action and chatting with her during a rare free moment in her carefully calibrated training schedule that she does her own thing. The 23-year-old is No. 4 in the world at her sport, which entails moving in a way that most humans could only achieve with the help of CGI. But she doesn't forget to have fun, rocking a diamond-encrusted Hello Kitty ring on recent jumps, her nails always done and her eyelids dusted with glittery shadow. 
And as for "confident"? 
photos2021 Summer Olympics Status Check
Well, devoting one's self to an event that demands peak physical performance while also requiring the utmost concentration and calculation can't help but require a certain amount of faith in one's abilities. And considering Vashti out-jumped the competition at the U.S. Olympic track and field trials in Eugene, Ore.—which doubled as the national championships—in June, after a year-long postponement that she used to recalibrate her technique and clear her mind…
She's feeling pretty good heading into the Tokyo Olympics, coverage of which begins July 23 on NBC.
Watch: Sha'Carri Richardson Officially Off Olympic Roster
"It's just really a surreal moment, you know, going and actually winning the gold at the U.S. championships," she told E! News in a June 28 interview from Santa Barbara, Calif., where she headed after the trials in Eugene, Ore., to chill out for a bit after securing her spot on the U.S. Olympic team eight days beforehand. "I've been thinking about that gold medal since 2016 so it was just really exciting for me to actually go and continue to be consistent in my jumping and, you know, have a good card throughout the whole meet."
Jumping 6 feet, 5 inches into the air, Vashti didn't match her personal best of 6 feet, 7 1/2 inches (2.02 meters), which she set in May at the Chula Vista Field Fest—but that just means she knows she's capable of soaring higher in Tokyo.
Trending Stories1AJ McLean Details Britney Spears Interaction That "Broke" His Heart2LeBron James Reacts to Son Bragging About Getting on Magazine Cover3Check Out the Stacked Cast of The Challenge Season 37Charlie Riedel/AP/Shutterstock
And heading into her second Summer Olympics, she's looking nowhere but up since finishing 13th in the high jump in Rio in 2016. Just 18 at the time, she made the team barely a month after her graduation from Bishop Gorman High School in Las Vegas, where she also played volleyball, wearing No. 4 (the numeral, her lucky number, is tattooed on her left hand).